JOHANNES MEINTJES


Artist, Author and Historian




1923 - 1980











'Mine is the vision of a painter sprung from the soil of Africa and I have given it in a personal statement which may find a response in the heart and imagination of another generation'.
Johannes Meintjes (1960)
JOHANNES MEINTJES ARCHIVAL WEBSITE
We are compiling a
catalogue raisonné
of the paintings of Johannes Meintjes and approximately 2000 images may be viewed on this archival website.
Please assist by sending any images that you may have to
cmt@iafrica.com

PUBLICATION BY THE VERNACULAR ARCHITECTURE SOCIETY OF SOUTH AFRICA


FINE ART AUCTIONS : RECORDS TO DATE

RECORD FOR BOOKS

Meintjes - Liriese Werk / Lyrical Works
Biography. 1948. 77 pp
Anreith Press, Cape Town

Sold for R12,880 on 1 Jun 2010
by Stephan Welz & Co
RECORD FOR GRAPHIC WORKS

1942 Self Portrait
380 x 340
Charcoal heightened with white

Sold for R150,390 on 26 Sep 2011
by Strauss & Co

RECORD FOR OIL PAINTINGS

1951 Swazi Landscape II
635 x 435
Oil on board

Sold for R668,400 on 8 Oct 2012
by Strauss & Co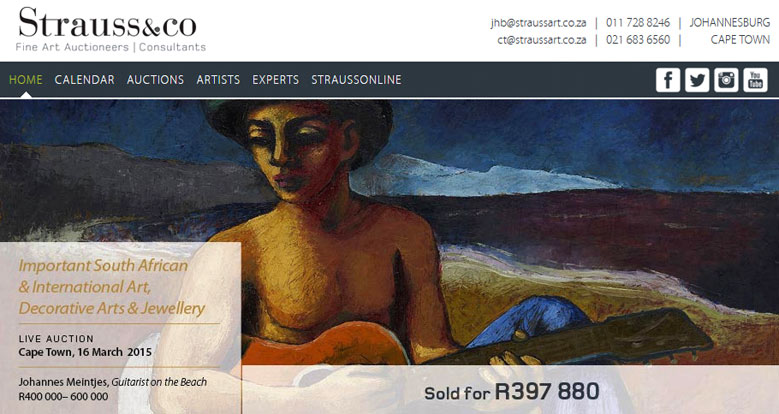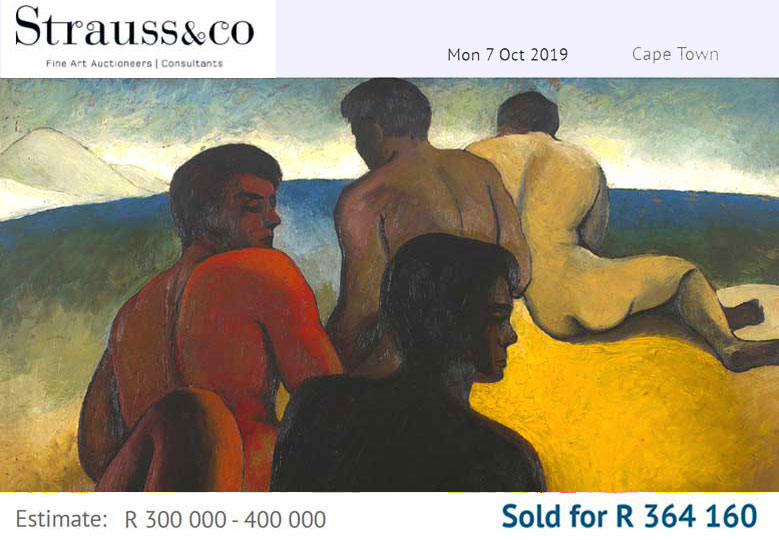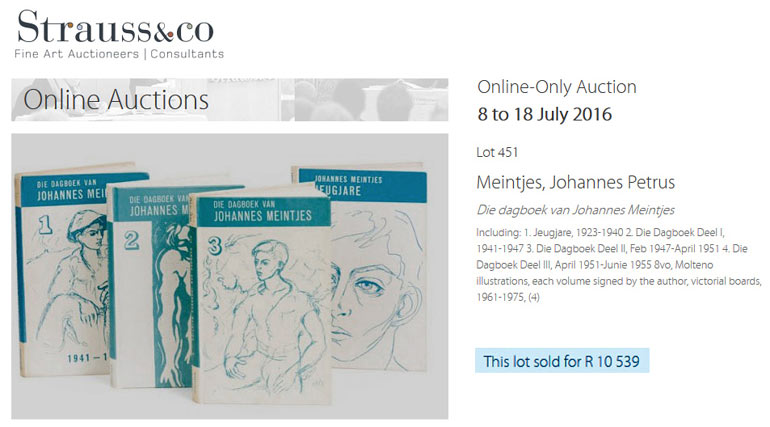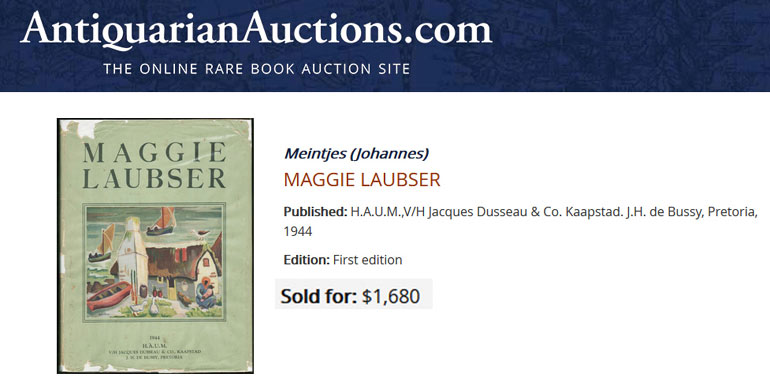 THE JOHANNES MEINTJES MEMORIAL ROOM AT THE MOLTENO HIGH SCHOOL

The Molteno High School in the Eastern Cape houses an important collection of more than 70 art works representing Johannes Meintjes' creative output.


EXHIBITION AT STELLENBOSCH UNIVERSITY'S SASOL ART MUSEUM
14 JULY TO 28 AUGUST 2010
Regular updates take place as more images and information become available.

Last update: 06 February 2020
A South Africa artist who deserves to be regarded alongside Maggie Laubser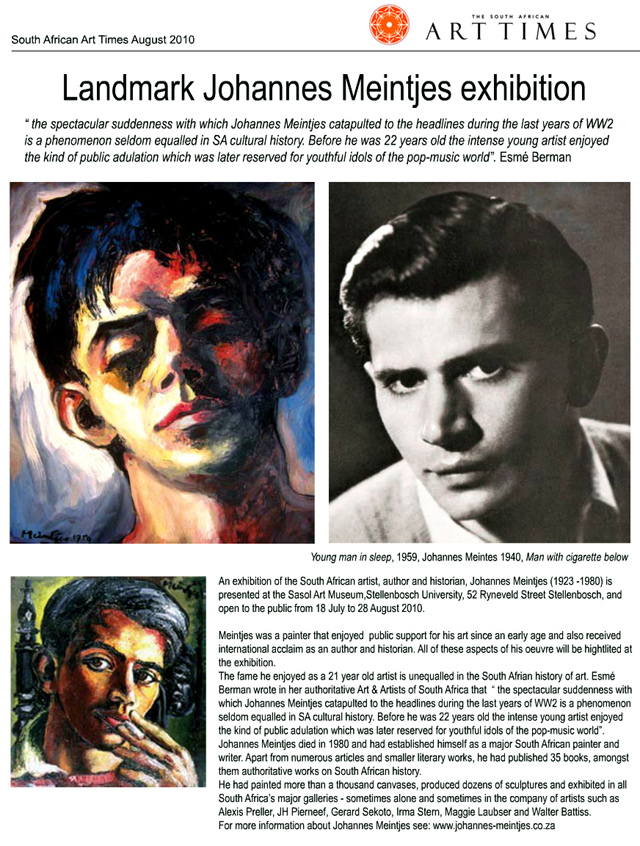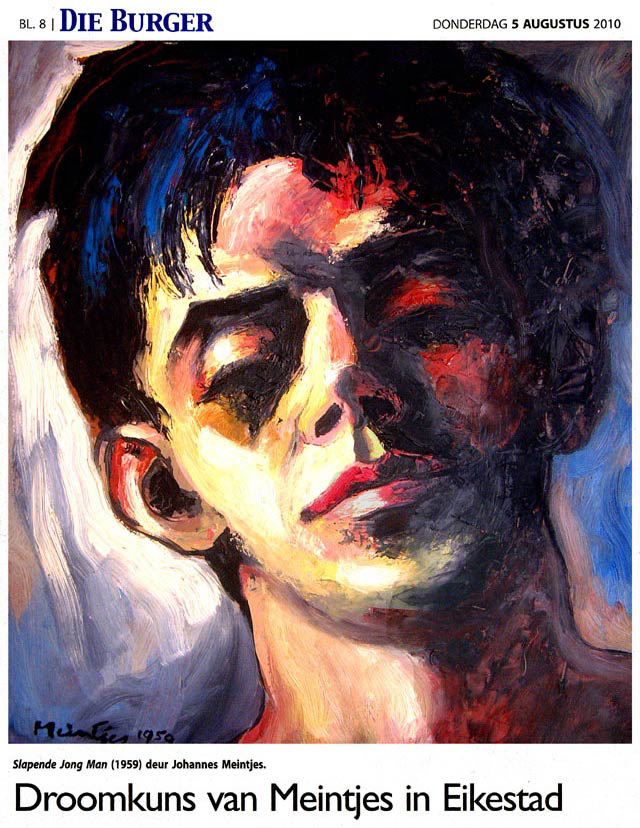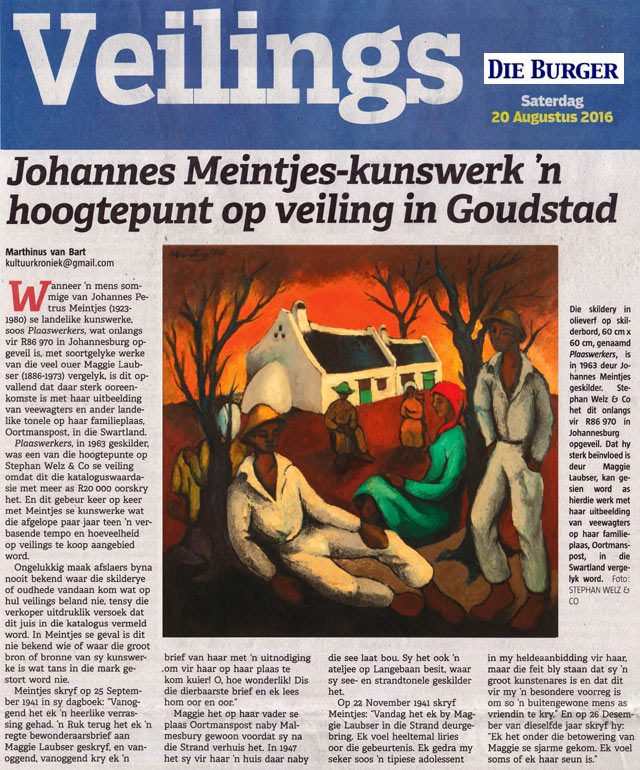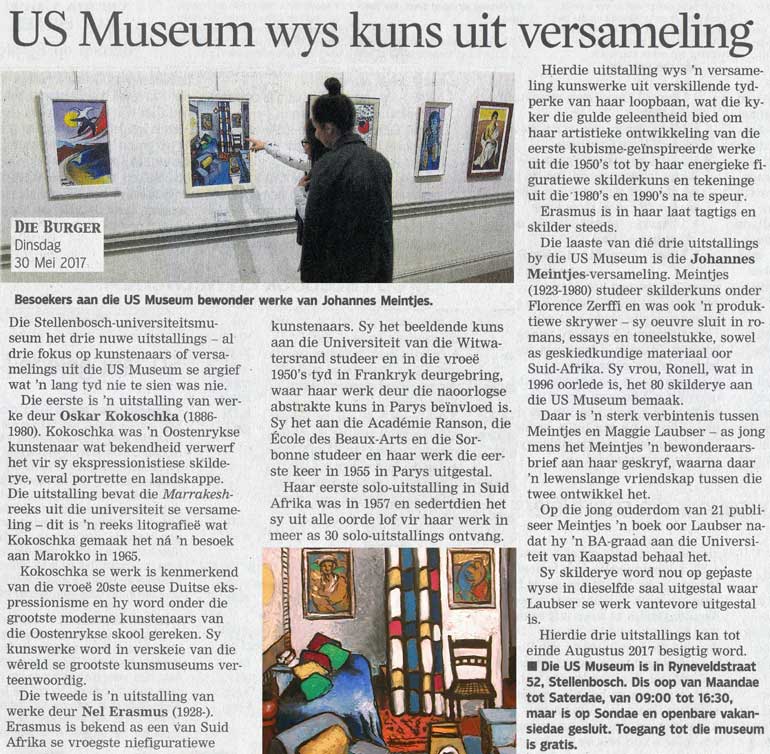 PUBLICATION BY THE VERNACULAR ARCHITECTURE SOCIETY OF SOUTH AFRICA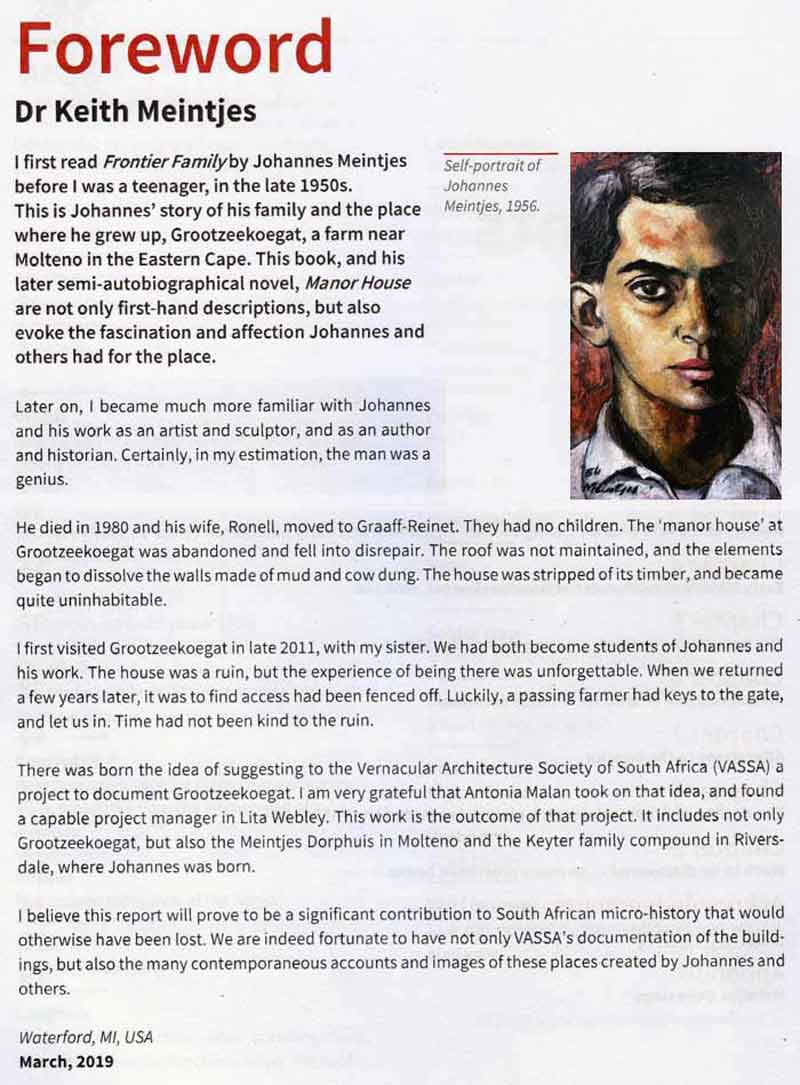 James Agate Peggy Albertyn Arthur Apfel Charles Argent Michael Ayrton Rosalind Atkinson George Barker Brian Bedford Brian Bell (Brian Murray) Chris Berliner Diana Berliner Diane Bester Arthur Bliss Jan Bouws Bruce Boyce Walter Boxer Benjamin Britten Curtis Brown Dora Bryan Nigel Cameron Roy Campbell Elias Canetti Pamela Chrimes Chris Cilliers Sir Kenneth Clarke Louize Conradie John Cranko Hetta Crouse Tony Curtis Peter Darrel Irmgard Demmler Hermien Dommisse Ruth Draper Enslin du Plessis Hubert du Plessis Hanns Ebenstein William Empson Edith Evans Howard Ferguson Cleland Finn E.M. Forster Babette Francois Pieter Geldenhuys George Gerhard John Gielgud Philippa Gill Tom Gill Louis Golding Leonard Graham Bill Gravett Graham Greene Blanche Gregory Joan Harris Laurence Harvey (Larry Harvey) Jack Hart Dame Myra Hess Cecil Higgs Noel Hewitt Jasmine Honoré Tony Honoré Brian Hudson Thelma Hulbert Christopher Isherwoord Freda Jackson Sir Gilbert Jenkins Augustus John Fred Klein Hilda Krisemann John Lehmann Keith Lester Rolf Lefevbre David Lewis Wyndham Lewis Beatrice Lillie Dr Geoff Lombard Geoffrey Long Engel Dame Rose Macauley Oliver Mersel Cedric Messina Sumner Miller Billy Milton's John Minton Henry Moore Marischal Murray Paul Newman Harold Nicolson Pietro Nolte Kate O'Brien Guy van den Broek d'Oberman Laurence Olivier John Osborne Moishe Oyved Virginia Pilkington John Piper Sir William Plomer Sidney Poitier Laurence Pollinger Alexis Preller George Prieto Dennis Price Noreen Purdon Zoë Randall Priaulx Rainier Terrence Rattigan Mary Renault Alfred Rodriquez Sir Francis Rose John Rothman Victor de Sabata Paul Scofield Leon Schauder Peter Shaffer Penelope Sims Edith Sitwell Osbert Sitwell Ian Gibson-Smith Gilbert Spencer Stephen Spender Elizabeth Sprigge Getrude Stein Jean Stewart Michael Sutton Ken Swart Suzanne Swart Godfrey Tearle Friso ten Holt Dylan Thomas Terry Thomas Anthony Thompson Dame Sybil Thorndike David Tidboald Michael Tippett Dr Michael Tonkin Felix Topolski Camilla Urban Peter Ustinov Ian van Praagh Peggy van Praagh Arnold van Wyk Michael Weight John Wright Ralph Vaughan Williams Pauline Vogelpoel Vera Volkova Ronnie Wallace Henry Dalrymple-White Angus Wilson Sandy Wilson Ursula Wood (Ursula Vaughan Williams) David Wright Ernestine Meintjes Kay du Toit Ernestine Keyser Kato Sauer Gerrit Bakker W.E.G. Louw Rosa Nepgen Sebastiaan Sebastian Sebastienne Derek Jarman Dennis Roberts Cape Town Hubert du Plessis Douglas Carrol Suzanne Swart Camilla Urban Lorna Marais Maynard Marais Sonny Cohen Babs Laker Tom Gill Chelsea London Sappho Ken Swart Narcissus Deon Linde Ecce Homo Pieter Marincowitz Icarus Judith Gluckman Roland Alexander Ronnie van der Hoven Beyers Botha Andries Fourie Sannie Botha Jack Ostler Ena Fourie Pietro Nolte Martin Keyser André van Rooyen Arthur Wheatley Hilda Kriseman Johan Tempelhoff Jobie Stewart Jean Genet Dr Michael Tonkin Mrs Falkson Dr Johan Gerber Prof Geoffrey Falkson John McIntosh Dr Raymund van Niekerk Stanley Keith-Falconer Roland Starke Jan Esterhuizen Brian Proudfoot Charlotte Esterhuizen Michael Guittard Michael la Grange Dr Hector Cowen Audrey Marais Audrey Blignaut Dr Geoff Lombard Edna Jacobson Anthony James Miriam Jacobsohn Brian Murray Brian Bell Dr Bennie van Straaten John Hussey Anton de Waal Ruth Walsh John Boulter Lucille van Niekerk Vernon Gell Gerrit Wessels John Rothman Nellmarié Cronjé Faith Gluckman Anthony Farmer Joyce Coetzee Leonard Graham Daniel Kirstein Chris van der Berg Jacqueline St Clere Mimi Coertze Adelaide Rosenberg Adelaide Lorge Colin du Plessis Charlotte Blecher Dr Ruth Poisson John Whiteley George Stiles George du Preez Dr Johan Malherbe Maureen Chase Marie Meintjes David Beattie Mike Vermeulen Nigel Hawthorne Ronell Meintjes Luandri Botha Marina Botha Jacques Botha Edwin Blake John Blake Gnidia van Rooy Generaal De la Rey General De La Rey Generaal Louis Botha General Louis Botha Hermie Scholtz Genadendal Alet Venter Adéle Terblanche Dr Piet Roux