JOHANNES MEINTJES


Artist, Author and Historian




1923 - 1980











'Mine is the vision of a painter sprung from the soil of Africa and I have given it in a personal statement which may find a response in the heart and imagination of another generation'.
Johannes Meintjes (1960)
JOHANNES MEINTJES ARCHIVAL WEBSITE
We are compiling a
catalogue raisonné
of the paintings of Johannes Meintjes and approximately 2000 images may be viewed on this archival website.
Please assist by sending any images that you may have to
cmt@iafrica.com

JOHANNES MEINTJES DAGBOEKE

An English version is currently underway and will be released as an e-book.

BOEKBEKENDSTELLING: 19 Mei 2023 OM 18:00, Universiteit Stellenbosch Museum

Die skilder Johannes Meintjes (19 Mei 1923 to 7 Julie 1980) was ook 'n historikus en skrywer, onder meer van dertien dagboeke, waarvan nege dele ongepubliseerd gebly het. Meintjes het vier dele (drie Dagboeke en Jeugjare) self uitgegee deur sy Bamboesberg Uitgewery op Molteno.

Sy eerste dagboekinskrywing is op 13 Februarie 1941 in Dagboek Deel 1 (gepubliseer in 1961) en die laaste in Deel 12 (ongepubliseerd) op 5 Julie 1980, twee dae voor sy dood. Meintjes se inskrywing 'Toe ek met die Dagboek begin het, het ek nooit besef dat dit my monument gaan wees nie. As die geheel ooit in een band verskyn, wie weet, kan daar maar taamlik gesny word ...' (30 Januarie 1964 in Dagboek Deel IV, ongepubliseerd), was die uiteindelike motivering vir die publikasie getiteld Johannes Meintjes DAGBOEKE.

Al die dagboeke, gepubliseer en ongepubliseerd, is saamgebring om die verhaal van Johannes Meintjes se lewe in geheel weer te gee. Die fokus is op die mense wat hy ontmoet het, kommentaar oor politieke gebeure asook geloofsake. Daar is weggestuur van diep persoonlike, onsinnige of kwaadwillige opmerkings, terwyl vertellings oor sy uitgebreide sosiale aktiwiteite afgeskaal is. Die seer sake word wel aangeroer waar dit tersaaklik is. Waar gesondheids- of finansiële kwessies Meintjes se skeppingsvermoë beďnvloed het, word dit vermeld.

Die publkasie is saamgestel deur LM de Waal en Kobus Opperman.

BOEKBEKENDSTELLING
Datum: Vrydag 19 Mei 2023
Tyd: 18:00
Plek: Stellenbosch Universiteitsmuseum, Ryneveldstraat 52, Stellenbosch
RSVP: 021 808 3029 / e-pos usmuseum@sun.ac.za.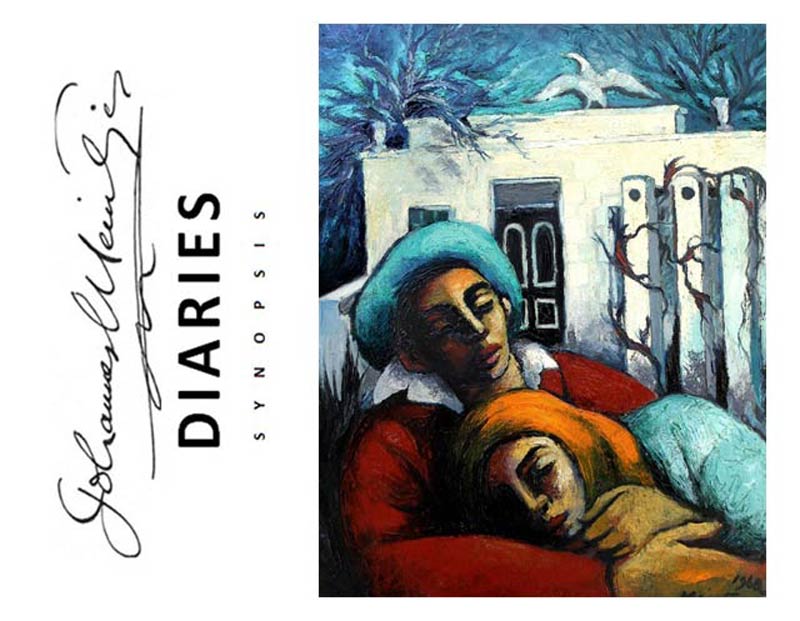 JOHANNES MEINTJES DAGBOEKE

BOOK LAUNCH: 19 May 2023 at 18:00, Stellenbosch University Museum

The painter Johannes Petrus Meintjes (19 May 1923 to 7 July 1980) was also a historian and author, and his body of work includes thirteen diaries, nine parts of which remained unpublished. Meintjes self published four volumes (three Diaries and 'Jeugjare') through his Bamboesberg publishing business in Molteno.

His first diary entry was on 13 February 1941 in Dagboek Deel 1 (published in 1961), while the last entry was recorded in Deel 12 (unpublished) on 5 July 1980, two days prior to his death.

In the end, it was Meintjes' entry, 'When I started on the Diary, I never realised that it would become my monument. If it were ever to appear as a single volume, who knows, it can be cut drastically...' (30 January 1964, Diary Part IV, unpublished), that proved to be the inspiration behind the publication entitled Johannes Meintjes DAGBOEKE.

The various diaries, published and unpublished, represent a collected work that tells the story of Johannes Meintjes' life in its entirety. The focus is on the people he met, comments about political events as well as matters of faith. The compilers steered clear of deeply personal, nonsensical or malicious comments, while toning down accounts of his extensive social activities. The experience of pain and sadness is touched on briefly where appropriate. There are also references to health or financial issues that affected Meintjes' creativity.

This publication was compiled by LM de Waal and Kobus Opperman.

An English version is currently underway and will be released as an e-book.

LAUNCH:
Date: Friday 19 May 2023
Time: 18:00
Venue: Stellenbosch University Museum, 52 Ryneveld Street, Stellenbosch
RSVP: 021 808 3029 / e-mail usmuseum@sun.ac.za.



FINE ART AUCTIONS : RECORDS TO DATE

RECORD FOR BOOKS

Meintjes - Liriese Werk / Lyrical Works
Biography. 1948. 77 pp
Anreith Press, Cape Town

Sold for R12,880 on 1 Jun 2010
by Stephan Welz & Co
RECORD FOR GRAPHIC WORKS

1942 Self Portrait
380 x 340
Charcoal heightened with white

Sold for R150,390 on 26 Sep 2011
by Strauss & Co

RECORD FOR OIL PAINTINGS

1951 Swazi Landscape II
635 x 435
Oil on board

Sold for R668,400 on 8 Oct 2012
by Strauss & Co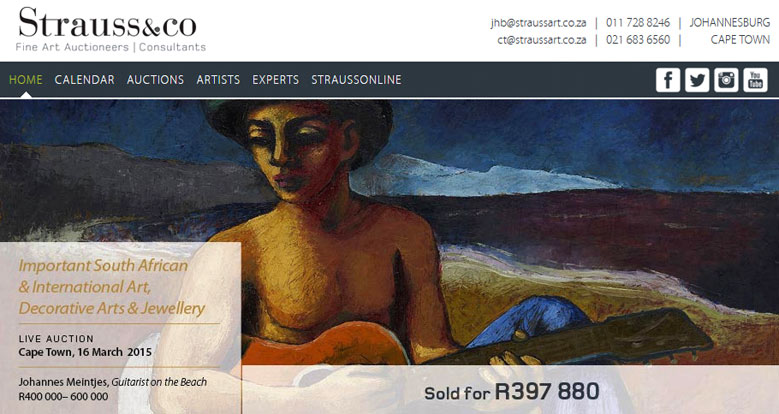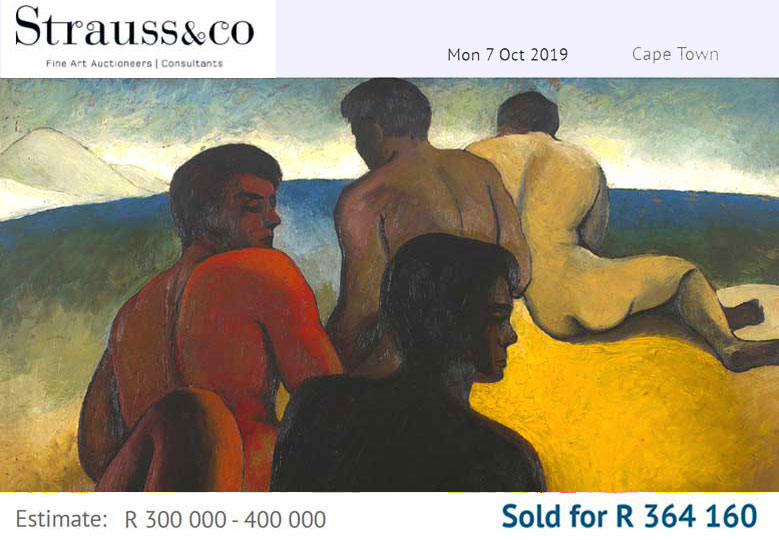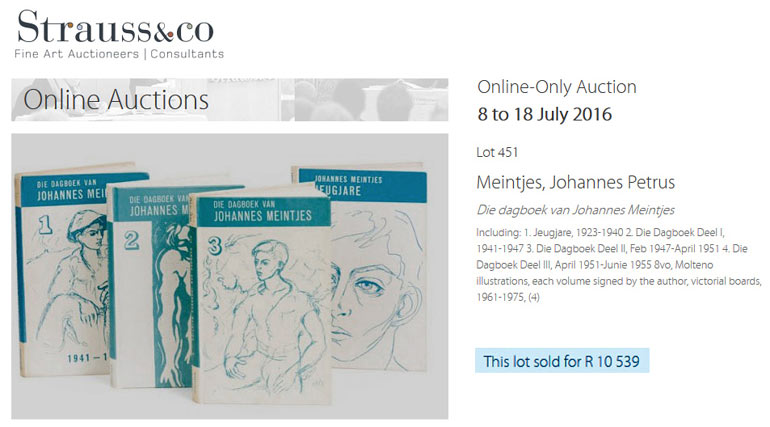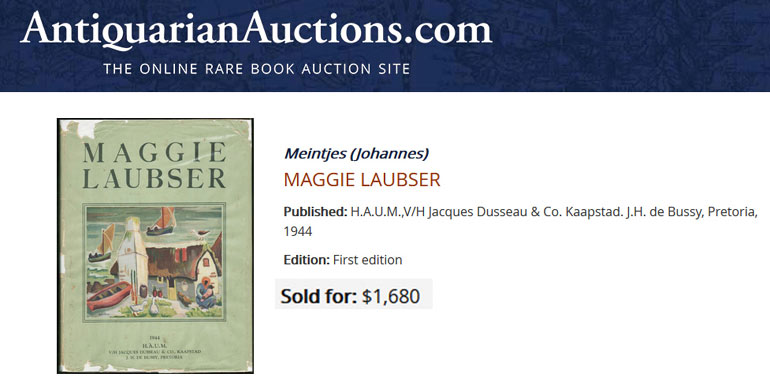 THE JOHANNES MEINTJES MEMORIAL ROOM AT THE MOLTENO HIGH SCHOOL

The Molteno High School in the Eastern Cape houses an important collection of more than 70 art works representing Johannes Meintjes' creative output.


EXHIBITION AT STELLENBOSCH UNIVERSITY'S SASOL ART MUSEUM
14 JULY TO 28 AUGUST 2010
Regular updates take place as more images and information become available.

Last update: 16 September 2022
A South Africa artist who deserves to be regarded alongside Maggie Laubser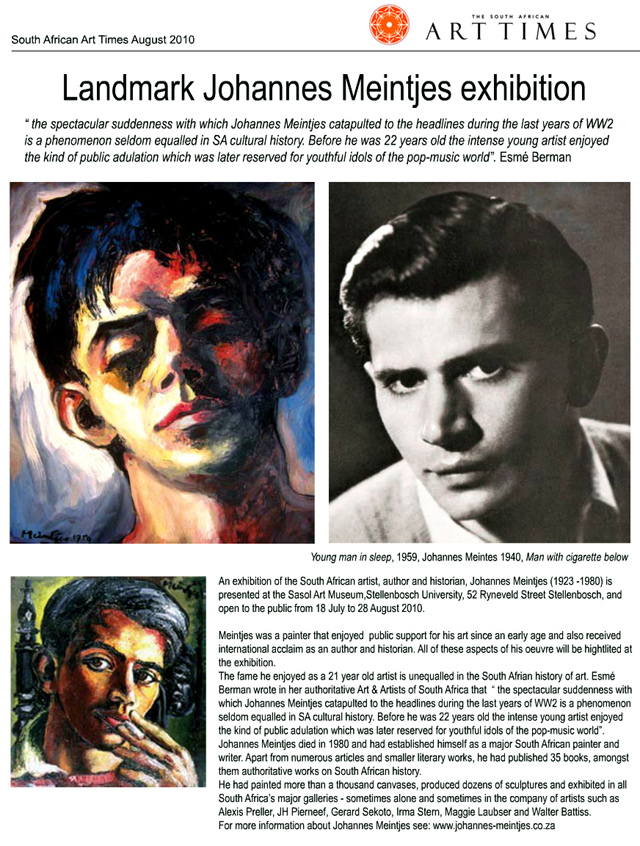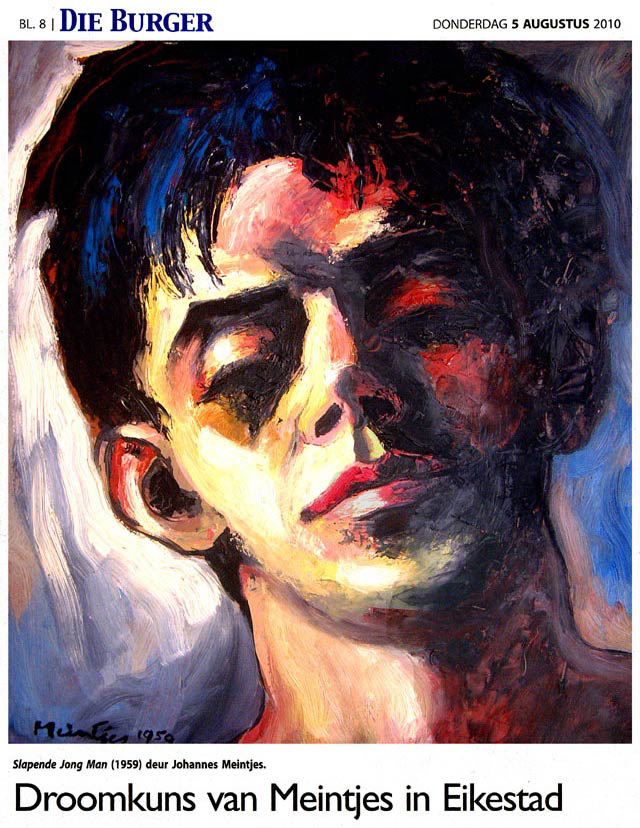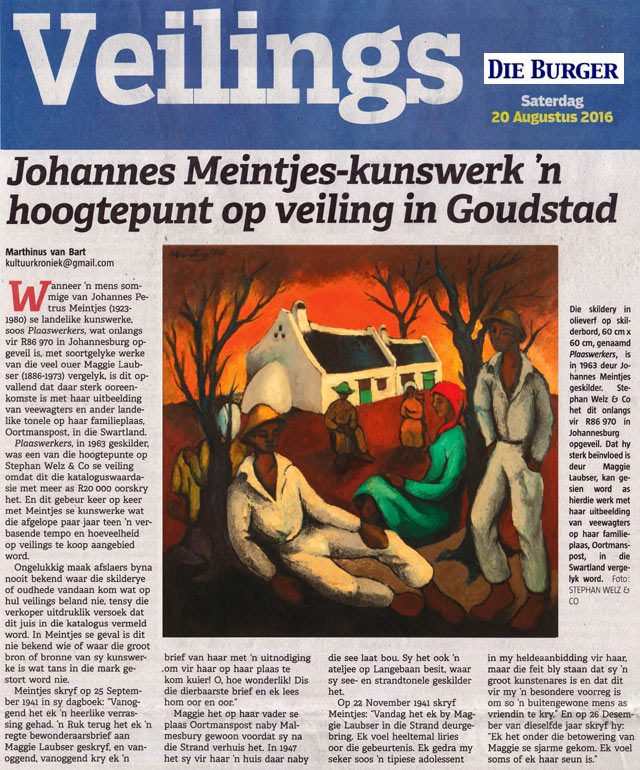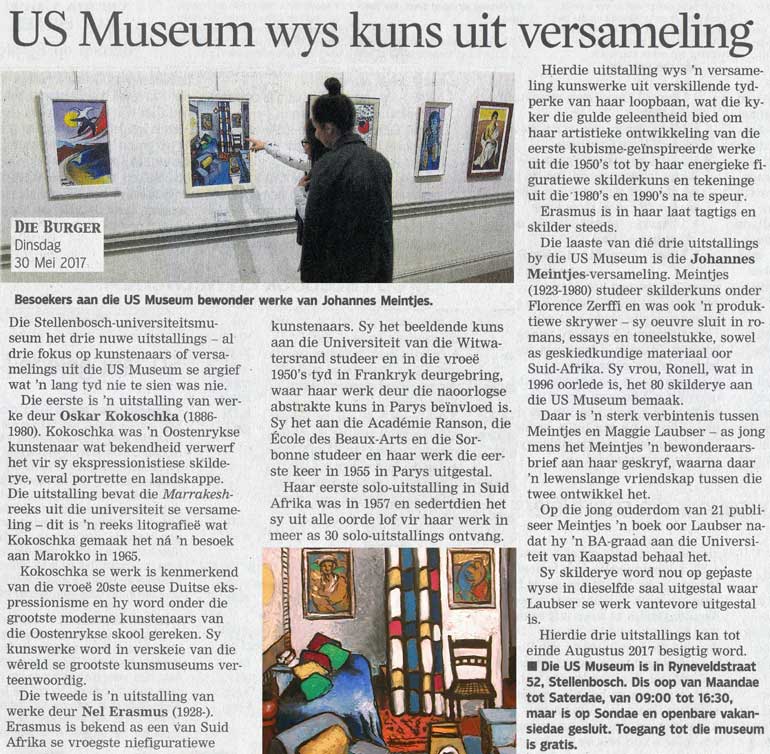 PUBLICATION BY THE VERNACULAR ARCHITECTURE SOCIETY OF SOUTH AFRICA